Streamlining Healthcare
– November-December 2013
---
Smart Growth
Increase savings and boost efficiency. With a focus on savings and efficiency, industry leaders come together at the HIDA 2013 Streamlining Healthcare Conference to share insights on the changing healthcare environment and new opportunities for growth. Manufacturer and distributor professionals discuss complex contracting processes to offer efficiency-boosting strategies. Also in this issue, a glimpse into health insurance expansion as millions gain eligibility for coverage through the Affordable Care Act. (View Healthcare Snapshot chart)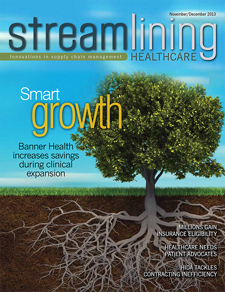 Smart Growth
A new online ordering system helps Banner Health control costs and produce valuable data in a time of rapid growth.
HIDA Tackles Contracting Inefficiency
Manufacturer and distributor professionals discuss the complex contracting process and offer strategies to boost efficiency.
Supply Chain Strategy: Five Sound Bites
Industry leaders share insights on the changing healthcare environment at HIDA's 2013 Streamlining Healthcare Conference.
Departments
INSIGHTS | A pricing accuracy road map | Bill Abrams, President, Distributed Products Division, Medline
BY THE NUMBERS | News, trends and stats in the healthcare supply chain
WHAT I'VE LEARNED | The value of patient advocates | Desmond Smith, MD, Independent Cardiologist
CAPITAL REPORT | Issues to watch: Readmissions, medical device tax and even more pedigree
HEALTHCARE SNAPSHOT | A quick, comparative look at studies addressing key industry issues
THE BIG PICTURE | Millions of Americans gain insurance eligibility through the Affordable Care Act
CLOSE UP | Optimism for non-acute market growth | Stanton McComb, President, McKesson Medical-Surgical